What is Biosafety ?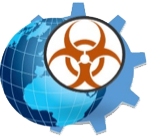 Biosafety and biosecurity in laboratory and point-of-care settings are central not only to the diagnosis, care, and treatment of patients, but also to the safety of health care providers and other staff workers of health and laboratory facilities
Biosafety Resources
Biosafety - What do we want to achieve ?
To share information, resources, and tools to help establish sustainable biosafety/biosecurity standards and programs in healthcare and laboratory facilities internationally
To explore innovative, practical, and sustainable best practices for biosafety implementation and management in low- to middle-income countries
To consolidate existing biosafety/biosecurity information, including training materials, guidance documents, and other tools in one useful and central location

To develop in-country capacity in establishing and sustaining effective biosafety/biosecurity programs
Latest Biosafety Updates

Biosafety CDC Lab Advisor meeting - June 2018

Biosafety Global Stakeholders Meeting - 2015
---
Safety courses for African Healthcare Workers
Medical professionals and Medical Support personnel face numerous health and safety hazards on the job. Every day, you may be exposed to human blood and body fluids from infectious patients, biomedical waste materials and contaminated sharps (scalpels, needles, broken glass).
We have developed two worker safety courses geared to the African Healthcare system. There are two tiers to this training. The first tier level is a safety familiarization course to be given by personnel familiar with your Clinic or Hospital, and is for medical support personnel (Laundry workers, Cleaning personnel, Clerks, Specimen and Medical waste transporters). This facilitator-led instruction will be given to assist workers in recognizing the hazards they face and how to keep themselves safe.
The second tier of training is for professional level Healthcare Workers (Clinicians, Nurses, Midwives, Pharmacy technicians, Administrators). There are additional serious hazards you face at work, but in this course, we will focus on the potential risks of bloodborne or airborne infection and developing strategies for your protection and safety. This training will be offered on-line, and personnel successfully passing the post test will receive a training certificate.
Safety courses for African Healthcare Workers