Bakunda Kamaranzi, National Laboratory Training Coordinator, Central Public Health Laboratories (CPHL), Ministry of Health, Uganda
Nominated by Patrick Ogwok, National Laboratory Quality Assurance Coordinator, CPHL, Ministry of Health, Uganda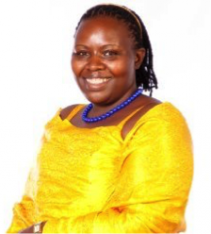 A teacher, human resource professional and Public Health specialist, Bakunda Kamaranzi is the National Laboratory training coordinator at the Central Public Health Laboratories (CPHL), Ministry of Health, Uganda – a position she has held for close to 10 years now. She is a qualified SLMTA trainer and African Society for Laboratory Medicine (ASLM) SLIPTA auditor.
She has been at the helm of SLMTA program since its pilot in Uganda in 2009, working closely with the National Laboratory Quality Assurance Coordinator at CPHL. In 2014, the position for National Laboratory Quality Assurance coordinator fell vacant and it was not substantially filled until April 2016. Meanwhile, Bakunda took the mantle of programming all SLMTA activities including trainings, site visits, mentorships and audits. With her support, Uganda has enrolled three cohorts of 100 laboratories in SLMTA. Despite the serious operational challenges, Bakunda did not relent and continued to coordinate a team of national trainers, mentors and auditors to move SLMTA forward until an acting National Laboratory Quality Assurance Coordinator was hired, whom she has been working with and guiding to date. Her resilience has not only led to a tremendous number of laboratories enrolled in SLMTA but also remarkable improvement in laboratories as shown in the February 2016 ASLM's SLIPTA audits. Bakunda reckons that the game changer was the paradigm shift of SLMTA implementation from the centralized model to the decentralized (regional) model of SLMTA training.
Without her relentless efforts between 2013 and April 2016, SLMTA implementation in Uganda would have completely come to a halt. It is on this premise that I nominate Mrs Bakunda Kamaranzi as a SLMTA hero.