Bolimo Flora Ayah, Laboratory supervisor, Buea Regional Hospital Annex, Cameroon
Dr. Julie Ndasi, Deputy Executive/Technical Director, Global Health Systems Solutions (GHSS), Cameroon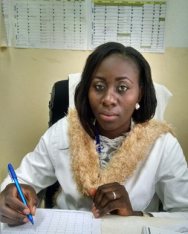 Flora Bolimo has been instrumental in the successful implementation of the Quality Management System in the Buea Regional Hospital (BRH) laboratory since its enrolment into the SLMTA/SLIPTA program. She had just been recruited at the time the lab was enrolled. But because of her unshaken commitment to SLMTA implementation in the lab through convincing and engaging her colleagues in implementing improvement projects, she was appointed the laboratory supervisor only a few years after her joining.
She spear-headed the development of a document control system now comprising 165 Standard Operating Procedures (SOPs), 12 policies, 81 job aids , and 149 other forms, as compared to only 10 SOPs that initially existed before the laboratory's enrolment. She also greatly contributed to the development of the laboratory quality manual, the safety manual and the clinician handbook, all of which were absent prior to SLMTA implementation in the laboratory.
Client satisfaction has improved from 53.7% to 82.8% within a year. She successfully convinced the hospital management to increase laboratory staff capacity from an initial number of 18 to 35 currently; an initiative that greatly improved the laboratory turnaround time with a resultant increase in client satisfaction, judging from the client feedback and an increase in number of laboratory users from 6,795 to 8,594 within two years. With all these improvements, the laboratory earned a 2 stars during the ASLM SLIPTA audit 2 years after its enrolment into SLMTA/SLIPTA, rising from 0 stars at baseline audit.
Today all of these efforts and accomplishments have made the BRH a reference center within the entire South West region of Cameroon and at the same time serving as a reliable training partner for many public and private health schools and faculties in the nation. The laboratory now receives an average of 100 trainees per academic year, as opposed to fewer than 30 trainees before the establishment of a quality management system. The increase in number of patients and quality of services rendered to them, enabled the hospital (with the laboratory being a part) to qualify for support from the World Bank through Performance Based Financing (PBF) activities.
With all these in mind, I therefore without any hesitation, nominate Flora as one of our SLMTA heroes in Cameroon.