Charity Jurua, Laboratory Services Manager, Gulu Regional Referral Hospital, Ministry of Health, Uganda
Nominated by Francis Ocen, Technical Advisor Lab Strengthening/QI, USAID SUSTAIN Project, Uganda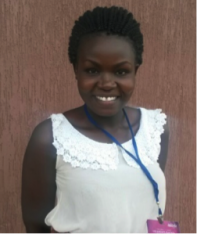 Charity is the Laboratory Services Manager for Gulu Regional Referral Hospital. She joined the Gulu team as a Medical Technologist in July 2013 and was officially appointed the Laboratory Manager within 2 years (Oct 2015). Just after arrival at Gulu Regional Referral Hospital Laboratory, she was appointed Laboratory Quality Officer, a position she held until her appointment by the hospital management to her current position.
Charity's rise to the position of Laboratory Manager in such a short time is not surprising as we know her commitment to service and hard work. She has overseen the restructuring of Gulu Laboratory and commitment to laboratory quality management systems. This is gradually ploughing back the integrity of the lab alongside better communication between the Laboratory, Hospital management and clinical teams of the Hospital.
Management commitment under her leadership has enabled the laboratory to progress in the implementation of laboratory quality management systems via the SLMTA program, ultimately improving their SLIPTA ratings from 1 star in 2013 to 3 Stars according to the last National SLIPTA audit conducted in March 2016. With this improvement in laboratory services delivery, I am confident that clients served by Gulu Laboratory, including those from the regional hospital and others from 32 lower facilities through the sample referral and result transport network, receive accurate and reliable results.
It is against this background that as a Technical Advisor for laboratory strengthening for the project that recruited Charity and seconded her to this facility, having supported multiple laboratories across the country and seen Gulu from the beginning of the project in 2011, I have no doubt that Charity's arrival significantly changed the course of events in Gulu Laboratory for the better. She is therefore deserving of the SLMTA Hero award and it's my honest pleasure to nominate her for the same.