Dr. Victor Mbome, Regional Delegate of Health, South West Region, Ministry of Health, Cameroon
Nominated by Laura Eno, Quality Assurance Advisor, CDC-Cameroon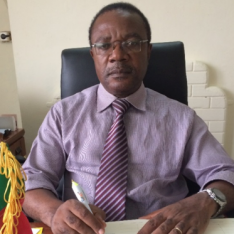 Dr. Victor Mbome Njie served as Hospital Director at the Regional Hospital Buea, Cameroon, from 2008 to 2012. It is my intention to convey my highest consideration for this truly outstanding civil servant. His quest for quality laboratory systems to support healthcare provision has been steadfast, leading to a remarkable successful collaboration with CDC–Cameroon. He ensured that the rewards of the quality improvement program (through SLMTA) did not end, and also benefitted laboratories as reflected in the significant increase from 18% (zero stars) at baseline to 67% (two stars) following exit audit.
He is the founding architect of the quality improvement program in hospitals in Cameroon. He transformed Buea Hospital into a hospital with a culture of proactive services delivered by 200 staff to about 2,500 patients monthly. He established the Quality Taskforce (QUITAF) program, and through it initiated improvement projects at all levels including janitorial services. A passionate and strong advocate, Dr. Mbome has been relentless in his pursuit for quality change in hospitals for a healthier Cameroon. As a true ambassador, he expanded the successful program in Buea Hospital to 17 other districts and has created a vibrant awareness among 20 other hospital directors.
His work has impact beyond Cameroon, as it was published in a peer-reviewed journal. His accomplishments attracted the World Bank to launch the Performance Based Financing (PBF) initiative in the South West Region, and Dr. Mbome has ensured the regulatory role of the regional delegation of health in the implementation of the World Bank's PBF initiative to date by developing standardized tools for monitoring and evaluation.
Dr. Mbome' s passion for quality improvement in healthcare service delivery provides the platform on which he draws inspiration to execute his many leadership responsibilities with measurable and improved outcomes that have benefitted millions, not only in Cameroon but beyond.