Janet Scholtz, Regional Quality Assurance Manager, Western and Northern Cape Area, National Health Laboratory Service (NHLS), South Africa
Patience Dabula, National Manager for Quality Assurance, National Health Laboratory Service (NHLS), South Africa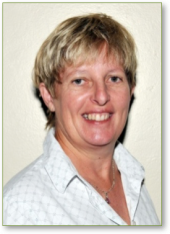 Janet is a dedicated and committed staff member of the NHLS. In March 2013, Janet qualified as a SLMTA trainer in the first South African in-country Train of Trainers workshop (TOT). Following the TOT, Janet spearheaded the preparation for the launch of the SLMTA program. Her outstanding knowledge and dedication made her the leader in the implementation of SMLTA in South Africa. During the SLMTA workshops, she played a principal role, coaching and training other trainers, going extra miles to ensure that the workshop was a success.
Janet became a SLMTA Master Trainer in August 2014 in Uganda. She was certified as an NHLS SLIPTA internal auditor in December 2012 and in November 2015 she was certified as a SLIPTA Master Trainer in Ethiopia by ASLM.
In October 2014 she attended the Quality Control (QC) and Method Evaluation workshop, and subsequently led the implementation of QC improvement projects in the laboratories in Northern Cape Business Unit. The result of that work was presented as a poster at the ASLM 2016 conference. She later led a team of two trainers and implemented the first SLMTA QC workshop in the NHLS. In September 2016 Janet attended the SMTA 2 pilot workshop and then led the rollout of that curriculum in the NHLS as well.
Janet has been involved as a trainer in Stanger, Worcester and Kimberley laboratories while acting as a consultant to many trainers and auditors in the programme. In February 2017, Kimberley laboratory will be assessed by the South African National Accreditation System (SANAS) for accreditation and Stanger laboratory will be receiving a pre SANAS audit by NHLS auditors.
Janet played an instrumental role in making South Africa's SLMTA song and dance performance possible at the 3rd SLIPTA/SLMTA symposium at ASLM 2016 – not an easy feat. She selected the melody, identified people to write the lyrics, recruited performers, and made the performance possible without incurring extra costs but still having the number of people needed for the SLMTA spirit competition.
The South African SLMTA Programme is successful because of contributions from many staff members. Janet Scholtz is one of the SLMTA Heroes NHLS is proud to have as an employee.