Stanley Bulime, Senior Laboratory Services Strengthening advisor, Strengthening Uganda's Systems for Treating AIDS Nationally (SUSTAIN), Uganda
Nominated by Philliam Aleti Aleezaibo, Public Health Specialist - Laboratory Quality Assurance Officer, CDC-Uganda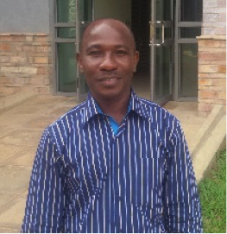 Stanley Bulime is the Senior Laboratory Services Strengthening Advisor, working with Strengthening Uganda's Systems for Treating AIDS Nationally (SUSTAIN) project funded by the United States Agency for International Development (USAID) on health system strengthening including PMTCT, VMMC, HIV care and treatment, laboratory, and TB/HIV services.
Stanley started his career as a SLMTAn way back in 2010 when Uganda enrolled its first cohort. At the time he was the Laboratory Services advisor for Baylor College of Medicine project funded through CDC, supporting health systems in the Southwestern region of Uganda. In 2014 Stanley participated in the first ever in country SLMTA TOT and qualified as a national trainer and mentor. Since then he has consistently contributed to the SLMTA program as a trainer and mentor – he has mentored five laboratories in Cohort 1, nine laboratories in Cohort 2, and four laboratories in Cohort 3. Recently he participated in the Statistical Quality Control and Method Validation course in South Africa and qualified as a trainer for this course. In February, 2016, ASLM conducted official audits in several SLMTA laboratories; all 14 Cohort-1 and Cohort-2 laboratories he mentored attained 2 stars or higher, with one laboratory rated at 5 stars.
His passion for quality assurance and mentorship has inculcated concrete quality foundation in the regional hospital laboratories amidst frequent staff attrition and transfer challenges. He was instrumental in Uganda's recent paradigm shift in SLMTA training from the centralized to the decentralized model, reducing cost and increasing the number of trained staff. With all his hard work and dedication, I therefore nominate him as a SLMTA hero.